Dead Frontier's first person experience
What is Dead Frontier: Source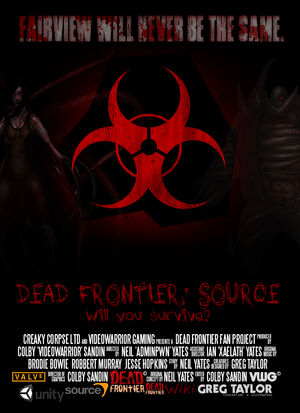 Dead Frontier: Source is a Source Engine mod that is designed to replicate the well known Fort Pastor area in the MMORPG Dead Frontier, in a first person engine. This modification will include new weapons, enemies, and a whole new Single Player story line that takes you deeper into the Dead Frontier universe and it's history.
Funding and Operation
The current head of the project is Will19 (Video-warrior) who decided to make the mod after a brief discussion in the Off-Topic section of the forums involving his designs within the Source Engine.
The project is also supported by various members of the community, who will "be immortalized in gold on a sign in the map" when the project is released. Link
It has been discussed as to whether or not this mod would be available for free, and it seems that after a brief discussion with Neil's (AdminPwn) brother Ian (Xaelath) Will19 stated that the game would be made available free of charge. The expected release date is some time in late June.
The main thread for the project is currently in Dead Frontier Discussion and is often updated every few days. Link
How to get Dead Frontier: Source
According to the main thread in Dead Frontier Discussion, if one wishes to play the mod they will need to own a source game. It has been mentioned that the most compatible game (the game that will be required for the single player portion of the mod and the custom content it provides) is Half-Life 2. 
However it has been mentioned that you will still be able to explore Fort Pastor in first person so long as you own a Source Engine game. A full list of Source Engine games can be found here.
The Source games that aren't compatible would be games such as Postal 2 or Alien Swarm.
Production Paused
Recently (4/30/13) production on Dead Frontier: Source was paused due to it's head developer (Will19) having been banned for 3 months for posting Inappropriate Images in off topic discussion. It is unknown if the production on this project will continue despite the lack of communication between the Dead Frontier Community and Will19. -Will not be continued-
Will19 can be contacted through the DF:S temporary email at: deadfrontiersource@gmail.com