Welcome, one and all, to the Dead Frontier Wiki!

Articles
Content
Dead Frontier

Character

Enemies

Gameplay

Useful Unofficial Links

Inventory

Official External Links
News
Tuesday, December 1st, 2021
Dead Frontier 3D Client Update V75
Summary:
The Dead Frontier Map now has named locations! Numerous changes to multiplayer sync in attempt to make it better
Player Input overhaul tying mouse and movement to your frame rate
Party UI showing other players health and armour in the inner city on the Enlarged Minimap
Horde Indicators on the Enlarged Minimap
Death Row Zombies will now slowly build up to a sprint
Fixed bugs that caused boss cycles to have low aggro (finally)
Added new multiplayer settings for barricading, and disabling chats
Damage numbers where other players indicate when they get hit can now be toggled on in the settings (Also available in arena)
Two new player bonuses. (search speed and loot spot bonus); These will be available in the future.
Full changelog: https://fairview.deadfrontier.com/onlinezombiemmo/index.php?topic=947005.0
This is an ambitious update and overhauls some core systems of Dead Frontier 3D so we ask that if you encounter any problems or have any feedback please post in v75-bugs-and-feedback
Monday, October 18th, 2021
DF1: SCOURGE OF THE SCARECROW
Starting early on Saturday October 23rd and continuing until Sunday November 7th you will be able to:
Take on a brand new Scarecrow boss and it's diseased minions
Follow the clues and unlock a special reward in our daily scavenger hunt!
Craft a brand new Halloween themed weapon with unique game mechanics
Craft three new pieces of clothing
Get a massive +200% EXP, More Loot Spots, +100% Weapon/Armour Loot AND +100% Ammo/Cash for the entire 16 days!
Grab a new Limited Edition weapon and implant from the credit shop
The scavenger hunt runs from the 23rd until the 30th and begins at 6:00PM UTC each day in our Discord (https://discord.com/invite/deadfrontier2). The first person to solve the clue and find the Golden Pumpkin wins 1,000 credits and an engraved trophy. Note that even if you are unable to be online at this time you can still get the pumkin later in the day (until next reset). You will need to collect at least 5 Golden Pumpkins to craft the special reward. Any spare Golden Pumpkins can be used to craft smaller rewards. Be sure to check the df1-announcements channel for further details closer to the day.
Miss it at your peril!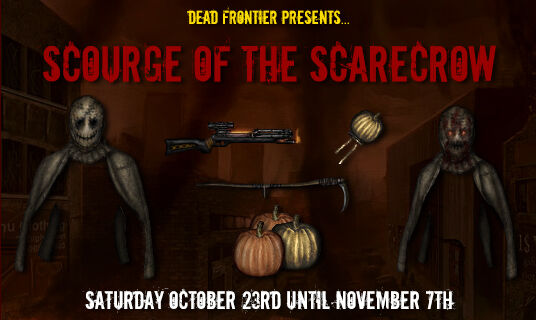 Saturday, August 07th, 2021
Mini-Update: Repair Price Adjustment
Starting from today, all services will have a minimum value of repair level * 20:
5: $100
15: $300
25: $500
35: $700
45: $900
75: $1 500
Inputting a lower price into the sales dialogue will automatically raise the price to that amount.
UPDATE 11/08: The price floor has been lowered to half it was previously, so a level 75 service will have a minimum price of $750
Tuesday, August 03rd, 2021
New Limited Edition Rifle
Check out the new Limited Edition Hailstorm C12. It comes with a unique 3-shot burst fire mechanic and can slow enemies by 50% per hit.
Only available until August 17th so grab one while you can!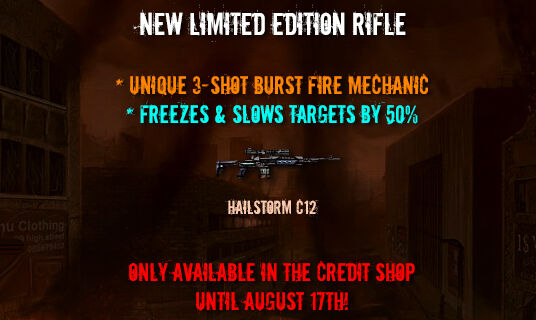 Tuesday, July 27th, 2021
Client V65 - Death Row Release (SEZ Revamp)
10 new weapons to find or craft.
Hyper aggressive Death Row infected variants.
Irradiated, smoldering, and black variants of existing bosses.
Dangerous aggro spikes.
Improved loot pool.
Nearly double the size of the previous SEZ.
Restricted minimap vision.
Unable to open menus near infected.
Other changes: https://fairview.deadfrontier.com/onlinezombiemmo/index.php?topic=944778
Sunday, July 4th, 2021
There's been some confusion around the way I worded my last post surrounding the Dawn weapons. No new Dawn (or Dusk / X-Dusk) weapons are going to get added. With that said, I am looking at balancing them out. I'm avoiding giving them a damage buff and aiming for a unique mechanic that makes them stand out.
Currently, I'm experimenting by giving them the ability to ignore PvE armour on infected (this includes shields) as well as some capacity increases. Armoured infected are more common in Death Row, so this should make Dawn weapons quite powerful and versatile in this end-game area without direct power scaling. For the Dawn Melee and Chainsaw weapons, the current idea is to lower their melee proficiency requirements to 0. This should enable a lot more players to be able to enjoy these weapons as even most end-game players do not have high enough melee proficiency to utilize them.
This is all subject to change during the testing period I mentioned in the previous post as I gather feedback. That said, some of these changes may go live before the update is out (stat-wise, not mechanic-wise). Due to the confusing wording, I just wanted to clarify what the plans around these weapons were.
Thanks. -- Clayton
Thursday, July 1st, 2021
Development Update #2
Hey @everyone, I have a quick progress update regarding this upcoming Death Row SEZ revamp. I'm working hard to catch up and get this update out to you guys on July 19th.
Besides some environmental bits for Death Row, just about everything is complete. I will be doing a test period with a group of players to help find bugs and finalize stats on the new 120 weapons, Dawn weapons, Death Row infected / bosses, new variants of current bosses, and the SEZ loot pool that will start in a little over a week.
10 new 120 weapons that can be crafted or found pre-assembled. Complete
Dusk / X-Dusk, Dawn, and new 120 weapon models. (Thanks to JustThatDude) Complete
New armour penetration (PvE) stat for some weapons. Complete - Smoldering, Irradiated, and Black variants of current bosses. Complete
Death Row area mechanics (tougher infected spawning during aggro spikes, obscured minimap vision, and menu opening restrictions). Complete
Death Row infected and bosses. Complete
Death Row environmental touch-up. (eta 1 week)
Testing and balancing. Release notes will be much more detailed and include everything not listed above.
Thank you for your patience.
-- Clayton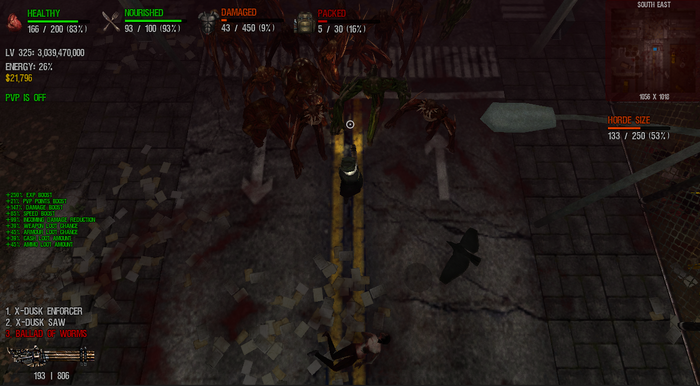 Thursday, April 22nd, 2021
Dead Frontier 1: 2021 Development Update
Alright, it's time to talk about what I have been working on. Things are still being developed but I will release more details later on and answer questions or address concerns as they pop up. Here is a basic overview.
Traditionally we would expand the map more to the right side, adding a lot of space. This time I want to put more focus on making better use of existing space. We have a large map but not a whole lot to do in it. This means revamping current areas (and infected) to feel unique and turning low traffic areas into points of interest.
The scope of this varies from idea to idea and area to area but starts with the largest being a South End Zone revamp. A hellscape created by experimented on infected locked away, now releasing into Fairview.
The Plan
SEZ is supposed to be the go-to place for looting. While it does indeed have better drop rates, NEZ has an uncontended convenience factor. The aim is to create a looting-based equivalent of the Wastelands. So what are the goals for this area?
Restoring some of that "jackpot" feeling to finding rare loot without restricting loot spot counts. High-risk, high-reward.
Utilizing the crafting system in a way that allows us to introduce new content that doesn't abandon older content.
A dark and gory atmosphere.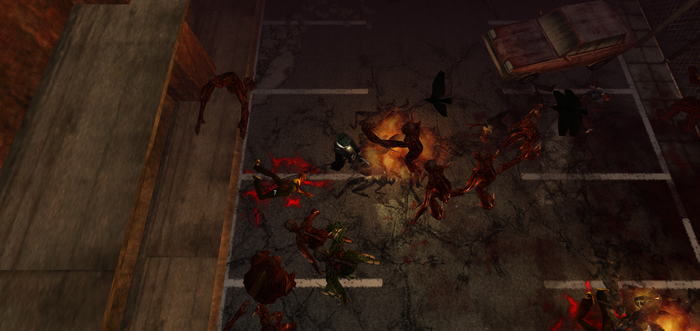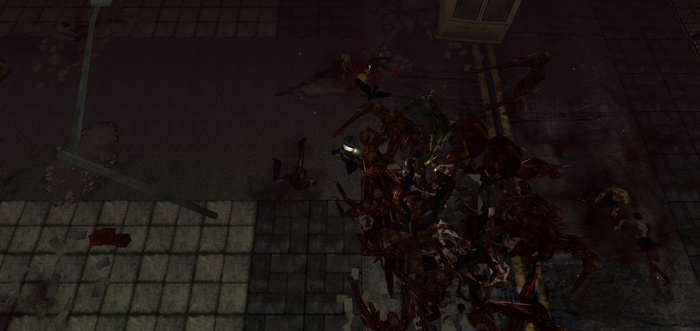 Weapons
We're working on a new lootable weapon set that can only be obtained by looting this revamped SEZ. These new weapons will have crafting recipes with high requirements (existing 120s, devil hearts, etc), but more excitingly, we're adding in the chance to loot them already assembled and complete.
Infected
I am taking some inspiration from "Death Row" that existed in the DF2D era and adding a Secronom twist on it. One of the first things I am borrowing is some of the infected. We are introducing DF3D remix versions of the Crow (and its ability to fly over objects), Red Longarms, Green Longarms, and.. a few surprises. I'll show more of them later on. :)
Twists
There are currently some experimental area-specific features, twists in the works. This includes turning it into a "dark zone" where minimap visibility is obscured, needing to clear the area around you of infected before being able to open a menu manually, and hardcore aggro spikes where buffed variants of the areas infected spawn (similar to old hardcore events but during the aggro spike duration). I will keep you guys updated on my progress with this area revamp!
Boss Variants
Finally, this next addition isn't directly related to the SEZ revamp but will be included in the update. I am adding more variations, like the current "flaming" variation, to existing bosses starting with some ideas inspired by DF2. At the moment this includes charred and irradiated but will be expanded to a few more. These will introduce slight mechanic and stat variations to mix things up a little.
-- Clayton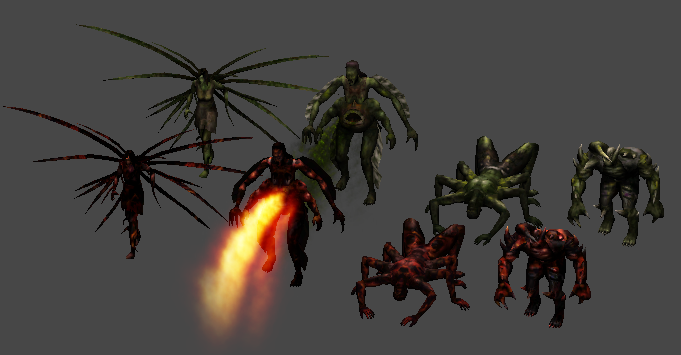 Wednesday, April 21st, 2021
Happy 13th Birthday Dead Frontier!
To celebrate 13 years of Dead Frontier, everyone gets the following bonuses until the end of the week:
+200% EXP, +100% Weapon/Armour Loot, +100% Cash/Ammo Loot and more loot spots!
There is also something special in the Credit Shop :)
(Due to popular demand, I've decided this event will be extended until the end of the week)
--AdminPwn
Sunday, April 11th, 2021
Beginning of a New Era?
Today was an unusual day in Fairview: from the northern reaches of Secronom Bunker down to the furthest of the Wasteland, the sky is covered in a thick, mysterious red fog that blotted out the sun and seemingly caused the infected to be more aggressive than usual.
After 9 days of chaos, the "Bunny Man" has finally decided to end the chase himself, by broadcasting his final coordinate across the entire city and inviting everyone for a talk.
Following the coordinates, our scouts made contact with an individual who introduced himself as Dr. Peters, a member of the cult that wrecked havoc on the city this Easter, seemingly leading to the wild chase that left the Commander MIA and the Secronom crew scrambling to apprehend him. He warned us of a facility located somewhere in the city that the Commander and Dr. Adler tried their best to seal away (along with whatever unfortunate survivors trapped within), currently being barely secured by an emergency power system that's about to give way, and containing unimaginable things that threaten to send Fairview into what he can only describe as "the outbreak all over again."
Whatever he's talking about, it seems that this facility is the cause behind the red fog that is currently suffocating the city in darkness. Our best hope is for the fog to clear once the season changes, and our forces be as well armed as possible to whether what's ahead.
Scavenger Hunt Transcripts
The transcripts for the Scavenger Hunt, as well as the new NPC's message, can now be found here.
Friday, April 9th, 2021
Update: Mini Daily TPK Competition
Since activity in the arena is pretty low aside from Mondays, we've decided to add a mini daily TPK competition. It works just like the weekly competition, except that the winner each day receives 100 credits. The first competition starts right now!
Hopefully this should make the arena a teeny bit more lively
Thursday, April 8th, 2021
Eggstra Egg Options
You can now craft either a speed boost or Epic Egg 2021 (which gives a guaranteed cosmetic) with your spare Silver Easter Eggs!
Tuesday, April 6th, 2021
New Forum Moderators
I'd like to extend my congratulations to our new (and returning) forum moderators. I hope you'll all give them a (not so hard) time as they adjust into their new roles.
Friday, April 2nd, 2021
Client V60
Call of the Cult Easter Event preparations.
Increased how much distance lootable ragdolls teleport in bounds.
Added setting to toggle the noise filter graphic setting.
Reduced Harvester attack tracking speed.
Fixed a bug where bandits and players with PvP toggled on couldn't shoot through loot spots.
Fixed a bug where bandit ragdolls were causing performance issues on death.
Fixed a bug that made trees remain bright in low brightness settings.
Fixed a bunch more flickering textures and oddly lit floor tiles.
Please report any bugs found in #df1-bug-report so we can have a smooth event.
Side note: Wanted to say thank you for being so patient in regards to news on updates outside of tomorrows event. I will be talking about what I have been working on and future plans after this event has concluded.
Thursday, April 1st, 2021
Secret Easter Item Info Leaked
In addition to the Easter items found, we at the DF Wiki have unearth a brand new secret Easter item, hidden deep in the game's code. While the current sprite appears to be just a placeholder, here's a teaser for it: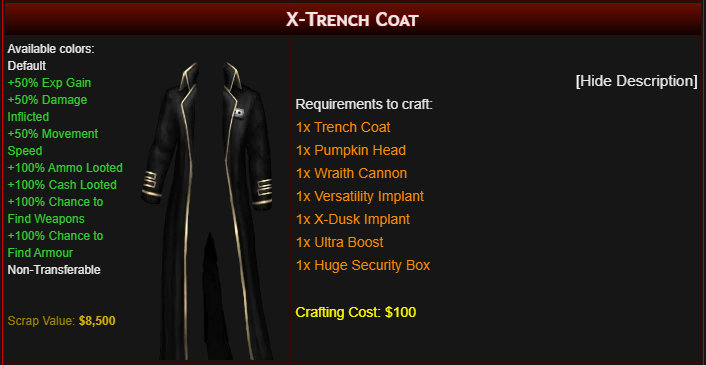 Monday, March 29th, 2021
DF1: CALL OF THE CULT
Starting early on Friday April 2nd (Good Friday) and continuing until Sunday April 11th you will be able to:
Take on the mysterious Lepus Cult and their hordes of infected minions
Follow the clues and unlock a special reward in our daily scavenger hunt!
Loot one of FIVE unique pieces of clothing - Craft a brand new Easter themed weapon
Get a massive +200% EXP, More Loot Spots, +100% Weapon/Armour Loot AND +100% Ammo/Cash for the entire 10 days
Grab a new Limited Edition weapon and implant from the credit shop
The scavenger hunt begins at 12pm UTC each day in our Discord (https://discord.com/invite/deadfrontier2) and the first person to solve the clue, find the Silver Easter Egg and post proof wins 1000 credits. Note that even if you are unable to be online at this time you can still get the egg later in the day (until next reset). You will need to collect at least 8 Silver Easter Eggs to get your reward.
Miss it at your peril!
Tuesday, February 23th, 2021
Dead Frontier 3D Forum Moderator Applications
Hello everyone, as part of the forum cleanup and restructuring process we are going to be looking for some new forum moderators. Most of the information you will require is written on the application form.
The forum moderator applications will be open for approximately 1 month from today and we will be selecting 2-3 applicants based on their responses, community activity, and involvement. The role to put it simply will require you to moderate the existing forum boards and enforce the Dead Frontier rules as well as helping users with any questions they may have.
The staff selection process for Dead Frontier has always been tight so with these applications we hope to give everyone the ability to tell us about yourselves and have an opportunity for the role. We look forward to reading your responses and best of luck.
Forum Moderator Application Form: https://forms.gle/QrkCqDLQmNJVnoL39
--Barney
Friday, February 19th, 2021
UPDATE: GM Tickets, Improved Mission Rewards and EAS Changes
You can now buy Gold Membership from the Credit Shop, which means that players that have issues making online payments can still earn GM.
Mission rewards now scale with your level up to +900% EXP and +50% Cash for 220+ players
EAS has been improved so that it won't ask you to re-authenticate so often if you have a variable IP
EAS is now mandatory for all accounts of level 50+
Aggro during bosses has been slightly increased
Number of boss spots has been increased (starting tomorrow)
--AdminPwn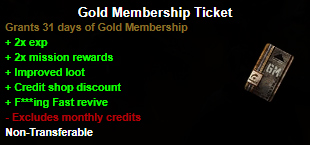 Tuesday, January 26th, 2021
Fanart: Zombie Battle
Check out this epic piece of DF fan artwork! It was created by Rally and his friend, and took over 160 hours to complete.
This is gonna be my new desktop wallpaper
--AdminPwn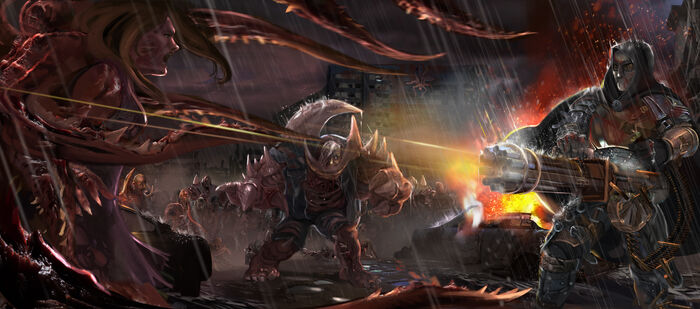 Tuesday, January 19th, 2021
Mini Update Client V59
More difficult bosses like Black Titans, Flaming Black Titans, and the Wastelands Devil Hound now drop a guaranteed MC item. (This change for the DH will start at reset)
Outpost Attacks now happen at predictable times, every 4.5 hours starting at reset.
Improved on lootable ragdolls teleporting in bounds.
Fixed a bug that didn't allow players to interact with lootable objects if in PvP mode.
Fixed a bug where the Wastelands would increase game brightness the more you moved through instances.
Fixed a bug where you couldn't scroll world map if you opened it while world map snippet was toggled on for the minimap.
Fixed a bunch of flickering textures, unreachable loot spots, and places players would get stuck.
Fixed a minor issue with the Discord Rich Presence not adding a space between the zone name and coordinate.
Reverted changes done to prevent loot progress resets with moving players and zombies.

This should help with zombies and players popping through walls as often as they were.

Reverted a change done that aimed to prevent additional non-lootable bosses from spawning after killing them.

This should help with the inconsistent amount of lootable boss bodies players have been experiencing since last update.
This unfortunately does mean that the original bugs will be present again until we can find a better way to address them.
I've begun work on things outside of this but we're not quite ready to talk about it yet and would like to wait until some of our discussions and ideas are more set in stone. Until then: https://youtu.be/dQw4w9WgXcQ
--Clayton
Official Discord Server
If you see this, your JavaScript might be disabled or DiscordIntegrator plugin isn't working. If the latter, please contact a wiki administrator.
About Dead Frontier
Dead Frontier is a free, web-based Survival MMORPG created by Neil Yates of Creaky Corpse.
Dead Frontier has over 12,000,000 registered accounts, and gains several hundred members every day!
About the Wiki
The Dead Frontier Wiki is a wiki dedicated to cataloging the Dead Frontier universe, covering the game itself as well as providing community-produced canon stories, guides and other interesting information. Want to help out? Get an account, and start editing!
Please note that this wiki is fan made, so the provided information may not always be 100% correct and up-to-date. If you find that something is wrong or needs to get updated, please edit the page in question and add a short summary of what you changed.
Please follow the Wiki Rules while visiting.
Dead Frontier Minigames