CURRENTLY UNDER CONSTRUCTION
This is where we will show you the common mistakes when mapping a new area, they range from uneven lines, streets and houses not lining up properly, and random symbols showing up on your finished products.
Common mistakes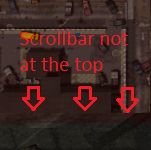 This is caused by the Scroll Bar not being placed all the way up. by not placing the scroll bar all the way  up you will capture part of the street etc. instead of the whole mini-map picture that you are trying to screenshot.
Always check your scroll bar location after opening your inventory and dragging pictures to to start the stitching
Loot icons showing up in the finished product due to a screenshot that captured the giant   

?

   in the middle of your mini-map and will be placed somewhere random on the finished product.
You will need to remap that area and locate the photo that has the ? in it.