What is it that gives the survivors the strength and will to push on in their bleak situation? The answer is "community".
It is our greatest asset against the shambling undead and the harsh new world situation. Unlike the flesh hungry beasts outside the gates of Nastya's Holdout we can organize, plan, and interact intelligently with our fellow comrades, which is a clear strategical advantage. Therefore a general forum was made out of the holdout's enormous cafeteria. It's the center of hope and progress for the remnants of the human race.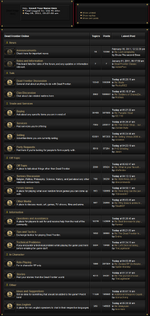 Clicking on the Meeting Hall or the Forum link in the toolbar takes you to the overview of all forums, the center of the entire community action. Here you can do various things, such as:
Entering a forum and looking at the currently active discussion "threads".
Viewing your own recent posts and replies to them.
Various other things, which you will probably try over time.
Creating clans and playing with others.

Beneath each forum's name is a description of the kinds of interactions that take place there, so please do not post anything that belongs in a totally different forum. If you do this, your thread will either be moved to the right section or deleted right away.
You can find more information on rules and guidelines for Forum Signatures here.