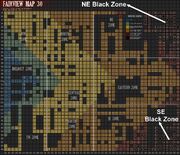 The Black Zone, commonly called The End Zone, is the zone located in the deepest parts of the city. With the exception of The Wasteland, it is by far the hardest zone in the game yet. It is also different from other zones in certain ways. It is a relatively different zone to the game than the original black zone, which existed prior to October 2012.
Location
There are two Black Zones: one at the extreme South East side of the map (SE Black Zone) and one at the extreme North East of the map (NE Black Zone), though both are same in every respect other than location.
Features
Zombies
It has been confirmed that black zones don't include the normal and special zombies, such as the burned and irradiated zombies. It is a unique area, since all other danger zones have include the normal zombies. Bones, Reapers, Small Bloats, Titans and Mothers are also absent from the black zones.
Tendrils are the most common enemy in the red and black zones, and spawn in hordes during aggro spikes. Two new mutants were added to the game with the update of the black zone: Long Arms and Rumblers. They only spawn in the red and black zones.The density of the zombies in endzone is also very high, often making it hard to loot.
The Black Titan, the newest and most difficult boss, spawns only in the red and black zones. However, there have been several reports of Black Titans encountered in the orange zones, not far from the red zones.
These are the only infected that spawn in the black zone. For details, see the Bestiary.
Mutants
Siren
Tendril
Spider
Brute
Leaper
Longarm
Rumbler (including the Irradiated/Black variant)
Flesh Hound
Bosses
Flaming Wraith
Flaming Giant Spider
Black Titan
Flaming Black Titan
Loot
Black Zone is the best place for looting because it can be looted of the highest level items. Non gold members can loot weapons and armor from 50 to 110 skill here. Gold members can loot weapons and armor ranging from 50 to 120 skill here.
White zone is now the best place for looting because it have a higher chance of getting better loots than black zone
Some of the items that can be found here are:
Medication
Nerotonin-2
Nerotonin 8B
Steroids
Food
Red Wine
Mixed Nuts
Caviar
Whiskey
Dried Truffles
Ammunition
12 gauge shells
10 gauge shells
9mm rifle ammo
12.7mm rifle ammo
14mm rifle ammo
.50 handgun ammo
.55 handgun ammo
Grenades
Heavy Grenades
Beside these, this is the best place for looting level 100+ weapons. For more on looting, see Looting.