The Knights of Death, also known as "The KD" is a commonly friendly clan and had a very non discriminatory recruitinf system for new members since it's birth. "Always fight the good fight." quotes FatherTime12, the leader. The Knights of Death has been around since July, 1st, 2012. Founded by FatherTime12 himself, it has grown steadily with 20 members as of July 12th 2012. There was a near mutiny but the in fighting has been settled a long time ago. It was a member of the United Clans of Fairview, a United Nations of the clans, and makes a firm statement of not be forgotten. (At least by FatherTime12 who refuses to just forget Dead Frontier) The leader (FatherTime12 who edits this) is a Level 42 Police Officer with expericence with many clans and has played Dead Frontier with other accounts on and off since 2009.
There are a few ranks to keep order:
Paladin - Leader, (may not necessarily be me)does not own his own Legion. His/her comrades are the clan as a whole.
Crusader- Second in command , has his/her own legion. This rank will be voted in by members every other month and will be my personal advisor for that period.
Baron - The highest rank you can get, has his/her own legion, must be level 75 and up.
Knight- Second Highest Rank, may form, must be level +51.
Squire- Assists Baron, must be level 20-50 and cannot form his own legion but will help a Baron with any menial tasks that need to be done for his Legion.
Man-at-Arms- New player fighting against the undead, level 5-20 cannot create his own legion.
There is also a Council, to help with logistics (the wants and needs of the clan) and to help direct the will of the clan. There should always be an odd number of Council Members and I will handpick them after a member shows a want and the directive skills necessary to become an effective member to do so.
The council members are as follows: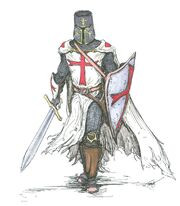 FatherTime12
There are jobs as every member must hold one. They are as follows...
Knight of St. George - All around soldier must be of a moderate level and active to become one.
Templar- Armorer or Banker as of the real life Templars were known for their trading skills. Must be well trusted member of the clan and the community as a whole.
Hospitiliar - Heals clan members if needed (probably should be Doctor class)
Wanderer - NO advanced requirements, gives loot and items for clan to share.
Warrior Poet - Makes signatures and logo for clan,
Drafter for the "Good Fight" - Recruiter essentially, must know how to deal with people.
Gaurdian of the Code: Must be good at rules and knows how to make people follow them. The clan's internal enforcer in basic english.
There are few but powerful rules that must be kept. These are known as "The Code":
1.Must post often on the forum
2.Must follow ALL DEAD FRONTIER game rules.

3. Must be able to post on forum.
4. No in clan fighting.
5. Multiclanning is NOT allowed. ( There are FEW exceptions.)
Tgen there are the Legions. Basically a small group within the clan. The leaders of these Legions help the Council decide what to do. There are none as of right now.
Members
Chargers: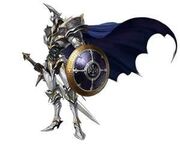 DovahkiinKaal
Rank: Banneret
Job: Templar
nightXstalker
Rank: Knight
Job: Wanderer
LethalLuce
Rank: Man-At-Arms
Job: Wanderer
Great Warriors:
bigpimp985
Rank: Banneret
Job: Knight of Saint George
Haydeez664
Rank: Knight
Job: Drafter of the Good Fight
shayanomer
Rank: Squire
Job: Wanderer
Paladin's Gaurd:
FatherTime12
Rank: Paladin
Job: Knight of Saint George
The Great Lord Onslaught
Rank: Crusader
Job: Knight of Saint George
Boralium
Rank: Knight
Job: Wanderer Soldier 101:
Rank: Banneret
Job: Knight of Saint George
War Mongers:
RichState99
Rank: Knight
Job: Hospitaliar
jonah1
Rank: Squire
Job: Wanderer
AntD
Rank: Knight
Job: Templar

Whisperers of the Shadow:
nightXstalker
Rank: Knight
Job: Wanderer
iDentalFloss
Rank: Squire
Job: Knight of Saint George
jason46661
Rank: Squire
Job: Gaurd of the Code